Hi Folks.
As this newsletter goes out, I know that many will be soon joining us at 6:30pm in the gym to meet with the Principals and representatives from our closest SCEA schools about preparing for high school. Discussion topics will include well-developed transitions from primary to high school, having confidence in a high school environment, the potential of your child's experience at SCEA secondary schools and transport options.
All is set for tomorrow's Cross Country event, despite the soggy oval and chance of further rain. Please join us tomorrow afternoon between 1:00pm and 3:00pm for this special event. Enjoy the coffee van and of course your child/grandchild running their course.  Please note that a call will be made early tomorrow morning if the weather will mean a rescheduling to next Tuesday.
I hope you also have your calendars marked for the upcoming Inter-School Basketball Carnival (Friday 12th), STEM Showcase (Tuesday 16th), Poetry Out Loud Final (Wednesday 24th), and Book Week Dress Up (Thursday 25th).
Parent Code of Conduct – final day tomorrow!
As noted in the Newsletter of Thursday 21st July, tomorrow, Friday 5th August is the final day for returns of the SCEA Parent Code of Conduct, first distributed in January. Again, this only applies to those whose children were enrolled prior to the start of 2022. If there are any outstanding next week and you have not already spoken with Dr Weaver, he will be in contact with you over the next week.
Community Surveys
At the end of next week all parents of the school will be sent survey forms by email from the SCEA office. Can I please encourage you to take the time to fill in the survey as the school so values your partnership, your ratings and comments on how we are doing and your contributions to future developments. At the same time both staff and senior students will also be completing surveys.
Independent Schools Census
Tomorrow is census day across SCEA. We are pleased to let you all know that the school is going to exceed its budgeted enrolments for the first time in a few years, for which we are really grateful to our community and of course to our wonderful Lord. Our Learning Support Coordinator, Mrs Grubb, along with the teaching staff have also done an outstanding job in ensuring we are in line to get the best funding support from both State and Federal for a number of our students with learning needs and disabilities.
2022 Prime Ministers Spelling Bee
Our school has registered again for the Prime Minister's Spelling Bee. We had 9 students make it through to the WA finals out of 100 statewide, a phenomenal achievement. Let's see how we go in 2022. First Round is on Wednesday 17th August with the Semi Finals 1st and 2nd September.
Outstanding Achievement
Back in 2020 the school entered student writing from Years 3-6 into a 7 Steps to Writing Success Competition. Amelia C chose to write about "The Astonishing Bicycle". Even though she didn't win the competition, they chose her piece of writing to be a sample in the brand-new Narrative Writing Teachers Manual.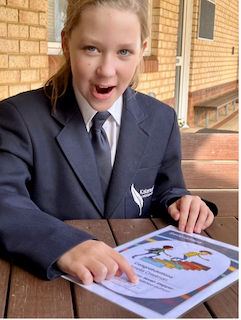 Sport Funding
Once again Mr Williams has secured a substantial grant for Sport. This term it is going toward the cost of some table tennis tables, and possibly some coach run sessions if there is any funding left over. What a great activity for the winter term – table tennis in the gym.
Encourage Friends to Enrol for Pre-Kindy
Thank you to all our school families who keep spreading the word about our school and all it has to offer. With another five months to go we are hopeful of a number more joining us, especially at Pre-Kindy. So if you know of families with children turning three shortly please encourage them to take a tour and have a chat. If nothing else, direct them to our website.
Memory Verses
We continue to have the children learn what is known as the The Lord's Prayer from the Jesus' Sermon on the Mount, found in Matthew's Gospel Chapter 6, verses 9-13.
09 This, then, is how you should pray:
10 Our Father in heaven, hallowed be your name, your kingdom come, your will be done, on earth as it is in heaven.
11 Give us today our daily bread.
12 And forgive us our debts, as we also have forgiven our debtors.
13 And lead us not into temptation but deliver us from the evil one.
Dr Gregg Weaver
Principal